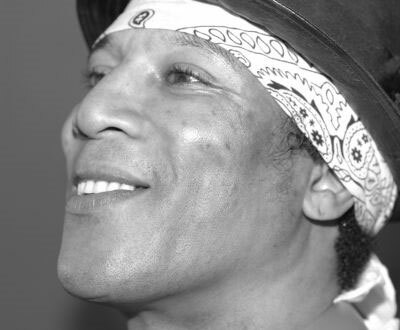 Earlier this week, we lost a true, bona-fide legend.
The name Paul "Trouble" Anderson has been hand-in-hand with black music and club culture in this country for over 4 decades - in my humble opinion, the finest DJ to come out of the UK. As a DJ, as a dancer, as what's known nowadays as a "tastemaker", he held your attention, he commanded your senses, he made you dance until you were ready to drop, and then made you dance just a little bit more...I am proud to have known him, proud to have played alongside him on more than one occasion, and, like so many others, I am crushed at his passing. DJs and clubbers of a certain age owe him a massive debt, and it's no exaggeration to say that all that we do in small or large parts is due to his influence, his energy, his zest for life and his all-encompassing love for the music he was always so generous in sharing. Someone today called him "our Frankie Knuckles", and in one sense I would agree with that, but for the fact he was uniquely, and 100%, "Trouble".
Personally, my life has been elevated beyond measure - the fabulous music I've acquired, the wonderful memories and moments I've experienced, and the many laughs I shared with him in DJ booths and "out-out" back in the day. This morning's "Risin' " session doesn't go anywhere near covering the kind of tribute that Paul truly deserves, but I wanted a little slot to spin some tracks that I associate with him from my early days as a clubber and burgeoning DJ on the funk, soul and jazz scene...because, simply put, without him, there'd be no Brother C.
RIP to the Master, Paul "Trouble" Anderson - my heartfelt thanks and love.
Track-listing:
From P60 feat. Jaidene Veda - Sweet Life (Full Vocal)
DJ Beloved feat. Gerideau - Look To The Sun (Original Mix)
Dawn Souluvn Williams - Feel The Fire (The BPM Fire Mix)
Mark Francis feat. Aaron K. Gray - Resting Place (Original Mix)
Guri Guri Boys feat. Josh Milan - Be Yourself (Michele Chiavarini Piano Dub)
Ambrosia - HAPPY (Mike Gainouis & Tyrone Paytone Horn Mix)
Will Downing - Do You Know (Beloved's BPM After Dark Remix)
Pierre Reynolds & Bruce Bailey - SING (P&B Anthem Mix)
Bebe Winans feat. Tobbi, Tommi & Kiandra Richardson - He Promised (Louie Vega Mid-Tempo Mix)
Ryuichi Sakamoto – Riot In Lagos
Slave – Steal Your Heart
Trouble Funk – So Early In The Morning (Special Mix)
Tyrone Brunson – The Smurf
Steve Arrington's Hall Of Fame – Way Out
Mike Millrain - I Can Show You (Original Mix)
Papik & The Soultrend Orchestra - Touch the Sky (Eric Kupper Remix)
Reelsoul feat. Rose Windross - We Are One (John Morales Remix)
…and here's the download link:
https://www.sendspace.com/file/slcasq
…hope you enjoy – as always, thanks to all who locked on…